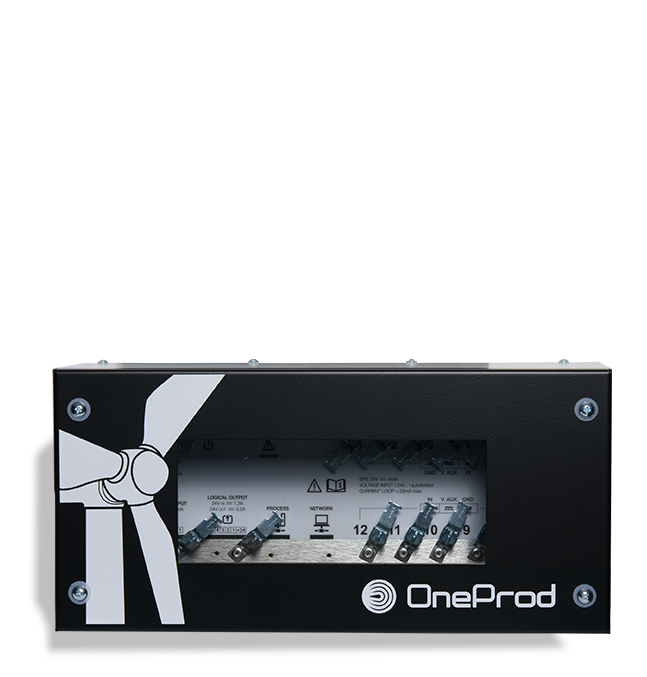 Wind turbine monitoring system
ONEPROD KITE is intended for continuous vibration monitoring of wind turbines. By detecting faults at an early stage, production uptime can be increased thanks to scheduled and targeted maintenance. Embedding ONEPROD's 30+ years of experience in condition monitoring, KITE offers unrivalled diagnosis capabilities on the low-speed rotating components. Its extensive processing power makes it possible to monitor wind turbines with high accuracy, despite their variable operating conditions.
Key points
Compact
dustproof and waterproof IP51 : no cabinet needed
size: 371 x 175 x 133 mm (14.6 x 6.89 x 5.23 in)
easy DIN Rail mounting
Smart
built-in Shock Finder™ algorithm for the detection of abnormal shocks on low speed components
proven monitoring methodology for the management of variable operating conditions
Resistant
compatible to the latest applicable EMC standard
insensitive to the wind turbine electromagnetic disturbances
resistant to lightning impact
Multi-channel
12 Analog channels for vibration or process information
extended capacity with numerical inputs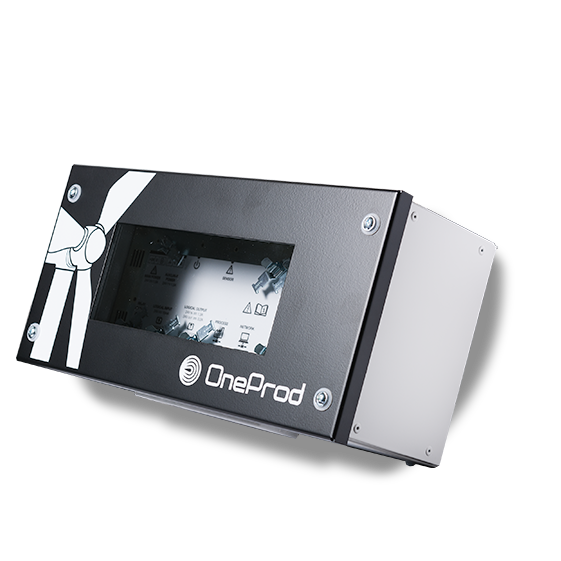 Easy installation
Compact, waterproof and dustproof to grade IP51, ONEPROD KITE can be installed in the nacelle without any enclosure. KITE can be easily mounted on a DIN-rail. Visual assistance is marked on the product to provide quick and reliable cabling.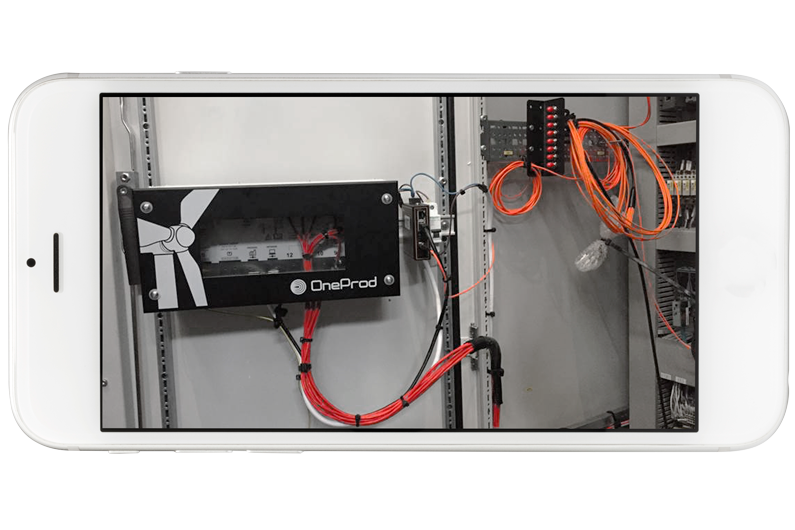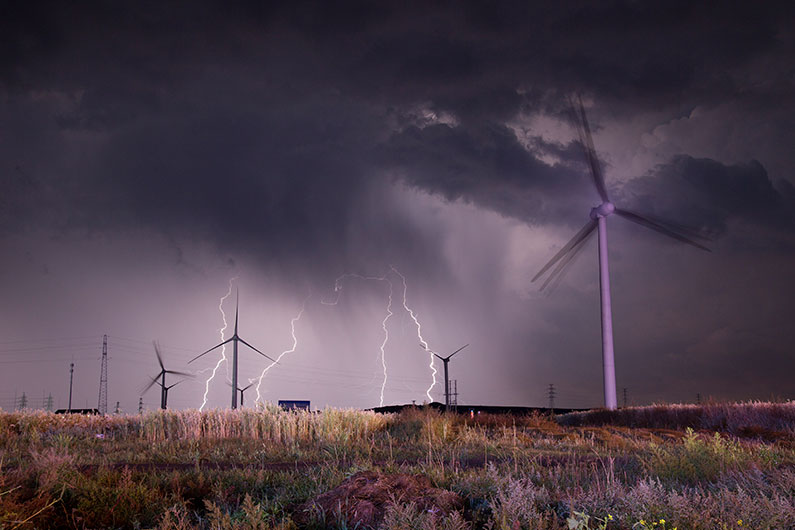 Designed for the wind industry
Compliant with the latest ECM requirements, KITE is resistant to lightening impacts and to the electromagnetic disturbances of the wind turbine. Measurements are reliable, thus enabling accurate monitoring of the wind turbine. With no fan and no conventional spinning hard-drive, KITE's design makes it reliable for long-term operations.
Comprehensive monitoring of the core components
ONEPROD KITE offers 12 data acquisition channels. All information needed for relevant monitoring of the drivetrain and nacelle can be connected to KITE: accelerometer, tachometer, and 4-20 mA or DC inputs for process information. In addition, parameters available in the PLC, such as wind speed, power, pitch, yaw, temperature, can be collected without any extra channel in numerical format.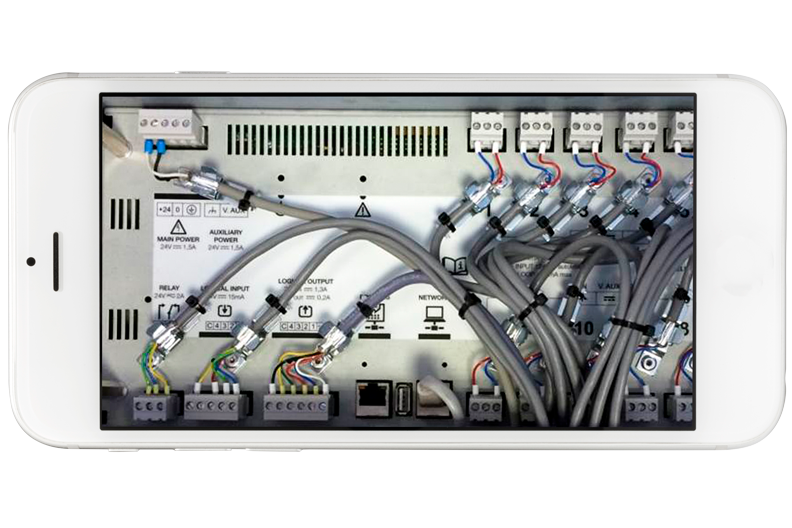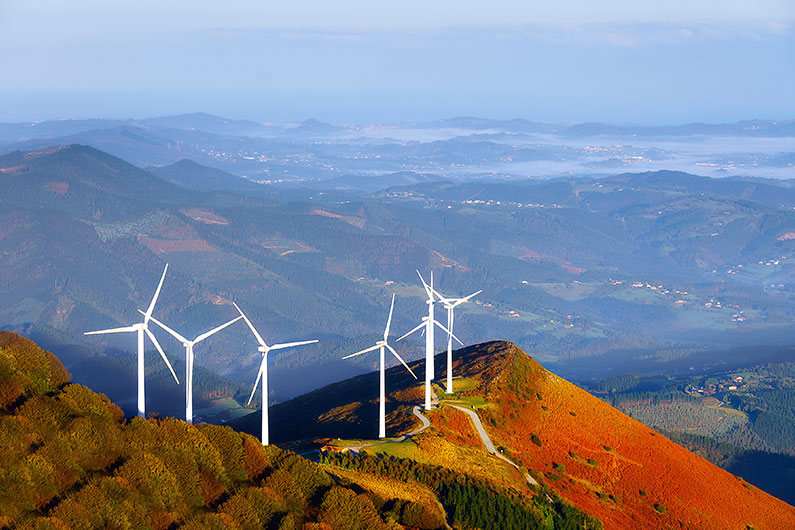 Reliable monitoring of low-speed parts
ONEPROD KITE offers early fault detection capabilities on the low-speed rotating parts of the wind turbine, thanks to a unique set of tools designed for analysis in the time domain:
automatic shock detection with the Shock Finder™ algorithm (presence and number of shocks)
band-Kurtosis providing smooth alarming
various post-processing tools, such as filters and statistical indicators
acquisition is performed synchronously on all channels, providing easier analysis and better diagnosis capabilities.
Assistance to decision-making
The latest diagnostics and maintenance recommendations are available in real time and from anywhere worldwide in the ONEPROD NEST software.
It makes it easy to optimize the maintenance process:
better spare parts management
pooling of replacement operations
removing systematic maintenance controls and their related costs